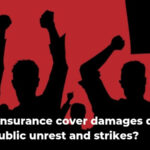 It is a general practice across the global insurance markets that losses emanating from terrorism, riot, civil commotion, strikes and public disorder are an exclusion. Amongst other reasons, insurers are reluctant to provide cover for these because, unlike other risks, their historical data is scarce, the occurrence is not random, and they are often geographically concentrated.
South Africa has been dubbed "the protest capital of the world", with one of the highest rates of public protests in the world. Our country has a history of political and social activism and mass action that often results in severe damage to property and losses in productivity and income. In February 2014 it was reported that there had been "nearly 3,000 protest actions in the last 90 days – more than 30 a day– involving more than a million people". One of the notable recent protests is the "fees must fall protests" that resulted in damages amounting to R 320 000 000.
In order to address such risks in the country, a state-owned short-term insurer, Sasria SOC Ltd was incorporated.
"Sasria SOC Ltd is the only short-term insurer that provides special risk cover to all individuals and businesses that own assets in South Africa, as well as government entities. This is unique cover against such risks as civil commotion, public disorder, strikes, riots and terrorism, making South Africa one of the few countries in the world that provide that insurance, particularly at affordable premiums."
However, sasria does not cover the following:-
Sasria does not cover you for consequential loss or damage, or loss or damage caused or contributed to by:
looting and theft, unless caused by any of the covered events mentioned above
property being dispossessed or confiscated by any lawfully established authority
the stopping or deliberate slowing down of work
any act of terrorism involving the threat of or actual use of any nuclear weapon or device and/or the threat of or actual use or release of any chemical or biological agent
For a quote, contact us on +27 11 395 1631 or email us at nick@ayobainsurance.co.za / natalie@ayobainsurance.co.za
Alternatively, you can follow the link http://ayobainsurance.co.za/detailed-quote/