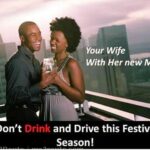 In an awful year characterized by a dreaded pandemic and "irregardless" officially being recognized as a word (sigh!!!!), the unpleasant truth is this year could still get worse for you. The festive season is fast approaching and as cheerful and merry as it gets, this is a season that has claimed many lives mainly due to road and other accidents.
Though Ayoba Insurance Brokers will ensure you are compensated for the damaged cars within the policy specification, unfortunately we cannot restore life. We cannot provide orphaned children with their beloved Mommy and/or daddy. We cannot bring a deceased spouse back to the living. It is thus imperative that we all practice caution and safety during the festive season so that the worst year does not become even more worse. Drink responsibly and Drive safely, but it is safer and more responsible to not drive at all after drinking, regardless (correct word) how much you have had, be it even half a glass of wine.
Trends have shown that this is also the time when house breaking crimes tend to increase markedly in our country. Research by the South African Police Services (SAPS) shows that most of these crimes are opportunistic. In the case of house burglaries, the opportunity is greater when people are away on holidays, visiting family or have gone out as they tend to do during this period.
If you have houseowners (for your house/domestic building) or householder's (your furniture in the house) insurance, Ayoba insurance brokers will within the policy specifications indemnify you for the lost and damaged property. However, part of that property may be your grandmother's wedding band which has been in the family for four generations. The sentimental value attached to this cannot be monetarized. We encourage you to practice due diligence in safeguarding your possessions. Ensure all security systems are updated and upgraded. If you lose or misplace a key/lock, it is safer to replace the entire lock system. Notify your alarm company if you are going away and at least ask your most trusted relative/friend to house sit for you while you are away. If within your means, you may even hire a security company to provide a guard to watch your place in your absence.
Be safe, take good care of yourselves and happy holidays!
For a quote please contact Ayoba Insurance Brokers on +27 11 395 1631, email nick@ayobainsurance.co.za or natalie@ayobainsurance.co.za
Alternatively, you can follow the link http://ayobainsurance.co.za/detailed-quote/
The information and content contained herein do not constitute a recommendation or solicitation to purchase or sell any financial product or service or arrive at a financial decision, nor do the contents of this publication constitute any form of advice or guidance.