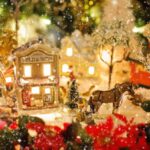 The festive season is once again upon us. The decorations are coming out of the closet and joy is about to be spread across the entire world. A rise in merry-making and jolly good times is expected. Unfortunately, so is a rise in the number of crime related activities. According to the South African Police Services (SAPS), the crime rate tends to increase during the festive season.
Criminals capitalise on opportunities during the holiday season, burglaries increase as people go away on holiday and leave their homes unattended, and home robberies increase due to people letting their guards down.
The other crimes which tend to surge upwards during this period are car hijackings, drunk driving, violent crimes causing bodily harm amongst others. These are unfortunately some of the things which can dampen any good time you might be having, just like being mistaken for someone who has already been served with a plate of food at a wedding.
Here are a few tips to help you get through this festive season without a dent in your mood: –
Log a test on all alarms, motion sensors and electric fences. During load shedding, alarm power packs and batteries deplete quickly. Ensure you have the necessary backups in place. CCTV cameras should also be checked as well as armed response where applicable.
Unplug appliances and electronic devices that may be vulnerable to power surges whilst away from home or during load shedding.
If you have a generator, ensure that the connections are tested as faulty connections could cause fire damage.
High value items are a target for criminals, with a major spike over this time of the year. Be aware of your surroundings, and refrain from wearing any high value jewellery or watches where possible.
High value items should also be locked away securely in a safe if the premises is left unattended over the holiday season.
Practice defensive driving. Always be cautious when out on the road as some people may be under the influence of intoxicating substances. Be very careful especially when you have the right of away as this is when drivers tend to relax yet other motorists may be ignoring the traffic rules. Wait and delay to start moving even if you have the right of way. Avoid road rage as these tend to end up violent when people are hyped up.
Be vigilant when driving. Always observe suspicious vehicles that may be following you. it has been reported that usually criminals will follow you around when they want to hijack your vehicle or rob you.
Ayoba insurance broker would like to wish you the best of the festive season.
Any comments or questions can be left in the comments box at the end of this article.
For a quotation please contact Ayoba Insurance Brokers on +27 11 395 1631 or email info@ayobainsurance.co.za
Alternatively, you can follow the link: https://ayobainsurance.co.za/detailed-quote/ leave your details and we will contact you.
The information and content contained herein do not constitute a recommendation or solicitation to purchase or sell any financial product or service or arrive at a financial decision, nor do the contents of this publication constitute any form of advice or guidance.